It does you know. I believe it. I will get back to that later though. First, I can't believe January is already here!
November, also known as National Novel Writing Month, went by so fast I hardly remember it. Along with 32,178 other winners, I rode the ups and downs of reaching 50,000 words in 30 days. It was a good feeling to reach the end, even though it's really only a beginning. There are a lot of edits and re-writes to be done.
In December, I went to visit family out of town and also took a break from the Internet for a few weeks (I admit that I did sneak a peek here and there).
What did I do in my free time instead of feeding my Facebook addiction?
I devoured two books, both by Christina Katz, which I highly recommend to any writer; they are both well worth the price.
and



These are the kind of books that are hard to put down. Christina goes into detail about steps to take in order to progress towards a successful writing career. The books are not only loaded with information, but entertaining as well.
Now that I'm about finished with both of them, I can't wait to read them again! And this time, I will read them with my handy pen and pad nearby in order to take note of the mountain of information.
The best part of Christmas truly was spending time with family. My favorite present was the gift from my daughter. When she gave it to me, she said, "You always say this, Mom!"
Wow! That was a gift in itself. My child actually listens to me!
Anyway, here it is. My favorite saying adorns one side while a gratitude symbol decorates the other side.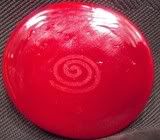 I carried it in my pocket at first and now have it tucked safely away behind a zipper in my purse.
I reminded myself of this adage while I was doing the River Dance (literally!) for four hours outside my mother's house, filling in the mud holes.
While I was stomping, I realized that the many mud pies of youth weren't all just for fun. They prepared me for something greater; that would be packing this sludge pit!!
See? Everything does happen for a reason (even if it takes 30 or so years to be enlightened to that reason)!
So as I ride through the ups and downs of life's challenges, occasionally feeling aggravated at being held up in some way, I have a handy reminder of one of my favorite philosophies.
Everything happens for a reason.